SJ-FMB1300 AUTOMATIC FIVE PLY FLUTE LAMINATOR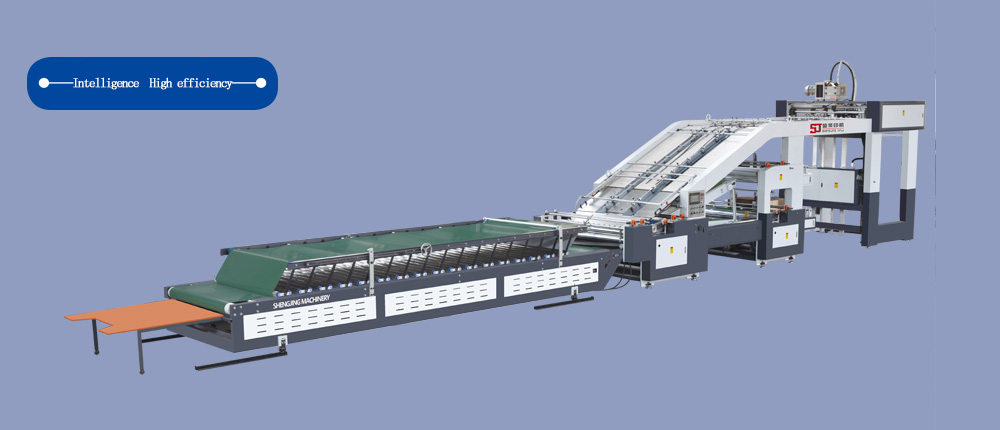 Product
The FMB-1300/1450/1600 automatic five ply flute laminator is a patented product independently developed and produced by our company. This machine opens the precedent of domestic and foreign flute laminator equipment which turns the idea of one printed face paper with one or two corrugated papers lamination into reality. The machine has the features of reasonable design, simple structure, convenient operation, long life and good performance, which can replace the function of the five-layer corrugating line. It is the ideal laminating machine for color printing and packaging company domestic and overseas.

Technical Parameters
Model
SJ-FMB1300
SJ-FMB1450
SJ-FMB1650
Max. Paper size (mm)
1300×1300
1450×1400
1650×1400
Min. Paper size (mm)
450×450
500×450
Thickness of face paper (g/m2)
150-500
Bottom paper
A. B. C .D.E flute
Laminating precision (mm, standard paperboard)
Front laminating precision of face paper and bottom paper is ±1.5mm
Laminating precision of bottom paper and bottom paper is ±1.5mm
The size requirement for face paper and bottom paper
The face paper is 8mm longer and 8mm wider than the bottom paper.
Laminating layer
Face paper+ corrugated paper =3 layers or face paper+corrugated paper +corrugated paper=5 layers(Total thickness≦10mm)
Mechanical speed (m/min)
100
Laminating efficiency (sheets/h)
0-5000
Power (Kw)
26
Power supply
380V 3P 5W 50Hz
Dimension (mm L*W*H)
16000×2150×2950
16000×2300×2950
16000×2500×2950
Weight (kg)
7000
7500
8000
Note: Subject to changes without notice.

Details features
The Front Lay Of The Face Paper

The conveying of the face paper unit adopts scale feeding method, and the positioning adopts elastic front lay. The paper with different sizes can realize automatic positioning.

Gluing Unit

The anilox-type roller makes the glue more even and saving, which reduces the cost effectively.

Bottom Paper Feeding Unit

The upper and lower bottom papers conveying adopt combination of servo motor and high-strength vacuum suction to ensure feeding the corrugated paper accurately and quickly.

Machine video