SJ-Q1300 AUTOMATIC FLUTE LAMINATOR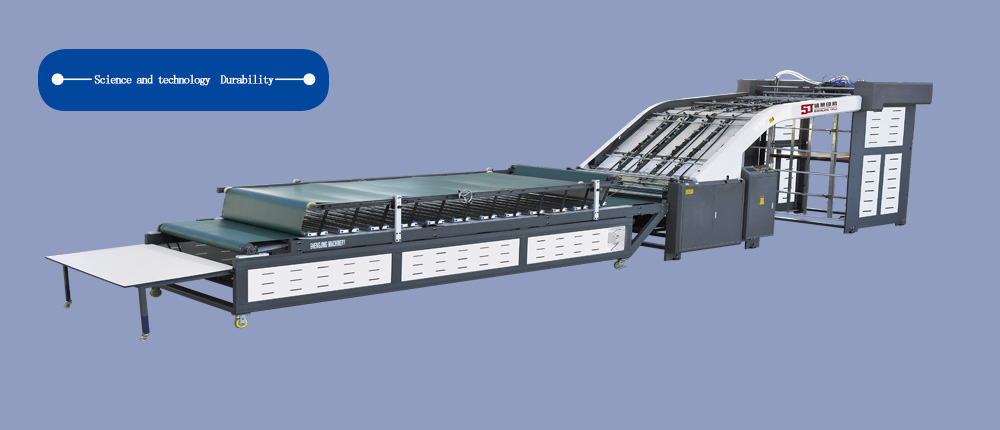 Product
■ Automatic feeder feeding is equipped with pre-loading device(optional) to reduce downtime and improve work efficiency.
■ The conveying of the face paper unit adopts scale feeding method. Both thick and thin paper can be conveyed efficiently and quickly with smooth feeding.
■ The unique design of the tension spring front lay effectively reduces the failure rate of the machine, and combined with intelligent control systems to ensure the positioning and lamination precision(machine precision ±1.5mm). It is more convenient to adjust the front lay.
■ The gluing roller wheel group adopts medium height and anilox design to ensure the coating is more uniform which makes the lamination more strong,the production cost lower. At the same time, the glue supply system adopts automatic cyclic glue, which greatly reduces the labor intensity.
■ It adopts frequency speed regulation, PLC centralized control which enables accurate operation.
■ With the unique drive design, the machine doesn't need to add any parts when the order is changed.

Technical Parameters
Model
SJ-Q1300
SJ-Q1450
SJ-Q1650
Max. Paper size(mm)
1300×1300
1450×1300
1650×1400
Min. Paper size(mm)
400×400
500×450
Thickness of face paper(g/m2)
150-500
Bottom paper
A.B.C.D.E flute
Front lay laminating precision (mm)
±1.5
Mechanical speed (m/min)
120
110
100
Laminating efficiency (sheets/h)
0-6000
Power( kw)
15Kw
Power supply
380V 3P 5W 50Hz
Dimension ( mm L*W*H)
12000×2150×2950
12000×2300×2950
13000×2500×2950
Weight(kg)
5000
5500
6000
Note: Subject to changes without notice.

Machine
SJ-Q series automatic flute laminator mainly consists of six parts: automatic face paper feeding section, face paper conveying section, automatic bottom paper conveying section, cyclic gluing section, positioning and pre-pressing section and pressing section. It suits to laminate the printed paper to the corrugated board(3ply or 5ply), with features of high precision and high speed. It is the ideal laminating machine for all kinds of packaging company domestic and overseas.

Machine video